---
The secure child-safe mobile phone network that allows parents to record, monitor and control usage.
---
Sim-Only Prices and Packages
Overspending is impossible - these are the prices you pay, and there is no way the user can ever run up a surprise bill.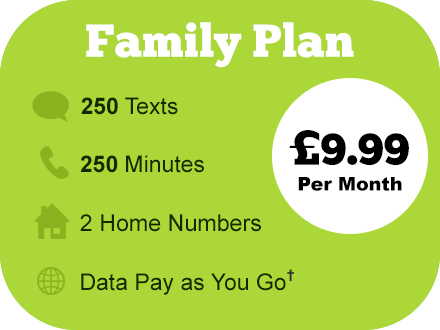 Family Plan
---
2 Home Numbers *
250 Minutes
250 Texts
Optional PAYG Data †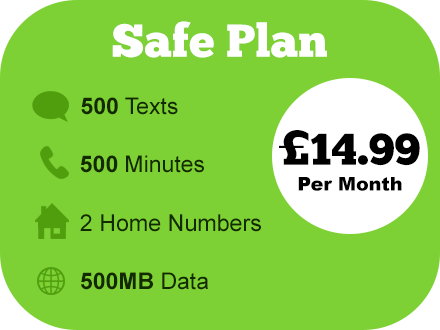 Safe Plan
---
2 Home Numbers *
500 Minutes
500 Texts
500 MB Data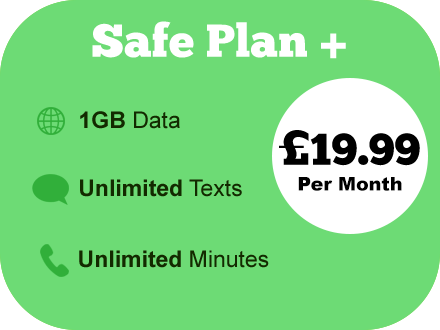 Safe Plan +
---
   
Unlimited Minutes
Unlimited Texts
1 GB Data
Why ParentShield?
ParentShield is designed from the ground up to be perfect for use by children. It protects users from unknown and unwanted callers, controls hours, spending, and provides the perfect parental control platform. Insert one of our SIM cards in any unlocked mobile phone and your child is instantly protected.
Because ParentShield is a SIM card only for Children ( and others who need special protection) only, it can provide many features that would not be appropriate on an ordinary mobile phone service. All settings are made via a secure online portal allowing parents to control a mobile phone, without touching the phone. The user has no way of circumventing ParentShield controls.
The SIM card that ParentShield uses provides the best UK coverage possible. It combines the coverage area of every major UK network so if there is coverage in your area from any mobile network, the ParentShield SIM will have a connection providing peace of mind and maximum protection at all times.
ParentShield blocks all calls and text messages to non-UK telephone numbers, and to any premium rate service in the UK. This guarantees no extra charges or rapid depletion of monthly allowance. See
https://parentshield.co.uk/going-abroad/
for full information.
* Home Numbers are 2 special phone numbers of your choice. They can be Mobiles, or Landlines. These numbers are always free to call and free to text, so even if the account has reached its call or message limit for the month, the user can always call you.
† PAYG Data is optional and pre-pay only. Overspending is impossible. Data charged at £1.60 / 100Mb
| | |
| --- | --- |
| Members of The National Association of Therapeutic Parents | Proudly Sponsoring the National SEND Conference and supplying SIM cards for safeguarding those with Special Educational Needs |