---
Calls and Texts ONLY
Looking for a SIM card that can't use mobile data? No problem. Every ParentShield Account comes with an on online Portal with powerful controls that allow you to disable mobile data at the press of a button.
This means you can turn data off most of the time, but if you want to allow data - say to locate the phone with a tracking application - you can just log in, turn data on for that purpose, and then turn it back off again when you're done.
Choose the Safe Stage 1 tariff below and we will disable mobile Data for you, or simply select any of the
standard Tariffs
and when you log into the Portal select the Data tab and turn Mobile Data off. No matter what the phone user does, mobile data will be unavailable.
---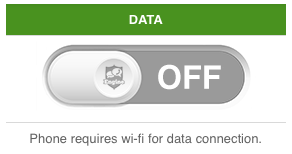 Big Powerful Switches Come as Standard
Turn Mobile Data On or Off
1
Safe Stage 1 Universal SIM
Features:
Call & Text Recording
Time Restrictions
Home Numbers *
Specific Word Alerts
Internet restrictions
Spending Controls
Ultra Secure Mode
ParentShield SIM Features:
2 Home Numbers *
250 Minutes
250 Texts
Data is Disabled
Unlimited Account Access
Rolling Monthly Contract
---
* Home Numbers
Home Numbers are 2 special phone numbers of your choice. They can be Mobiles, or Landlines. These numbers are always free to call and free to text, so even if the account has reached its call or message limit for the month, the user can always call you.
* Upgrades
Upgrade or Downgrade your Tariff at any time if you find you need more, or fewer inclusive minutes.