2019-03-12: Portal, call dispositions:
We have improved the Portal now, to clarify the reason why a recording is not available ( if a recording is not available ). It will now display "No Answer", where the option to listen or download a recording would be, if a call does not get answered. It will say: "Recording Off" if recording was turned off in the "Settings" tab of the Portal.
2019-03-07: System updates:
We are just about ready to swap our core server stack over to the 'mk3' version with all its fast processors, upgraded switch, and loads more capacity. We currently run at < 10% capacity and this hardware has about 10 x the capacity of the current setup. Basically it means capacity won't be an issue for a fair while, even at the current rate of growth. The date scheduled for the first live run is a week on Friday – the 15th March.
We will be running a live test between 4am and 6am on that day. Any calls in progress at the time will be terminated unfortunately. If everything works as expected we'll be leaving the new system in place and nobody will notice; apart hopefully, from the faster call connections and considerably quicker decryption and spooling of recorded calls.
The current stack will remain in place and function as the new redundant standby.

2019-02-21: System updates:
We have finished some important work on our SMS platform that will improve performance and compatibility with various other systems. This should help reduce the number of SMS that go missing or arrive out of sequence.
Other work is underway to prepare for the new servers that will be handling call traffic. The new infrastructure will mean calls are connected faster.
2019-02-14: System updates
We're currently preparing for a new Data connection and an improved backup for our NOC ( Network Operations Centre, AKA. "the Office") . Our Backup connection will be as capable as our main connections are now and we'll have considerably more capacity on the main call trunks to London, Manchester and Slough.
There isn't any downtime expected except for a few 5 or 10 minute outages between 2 and 3 in the morning as we swap some hardware over the next couple of weeks. We'll put a note on here and the website beforehand but it'll definitely be at a time all the users should be fast asleep.
2019-02-04: Website Updates and changes pt.II
If you can't find the Portal Login button when using a mobile phone to access it – the green button is now inside the new slidey menu thing accessible by clicking on the "three bars" Hamburger Menu in the top right hand corner of the parentshield.co.uk website. ( In rare occasions it may be top left, which is odd I know. )
2019-02-01: Website Updates and changes
We've been updating the portal theme to fix a few small bugs that were introduced during a recent upgrade of the ParentShield.co.uk site. Sorry if you were logged in today and found the menus, header and footer looking a bit dishevelled.
2019-01-23: New SchoolBlock Feature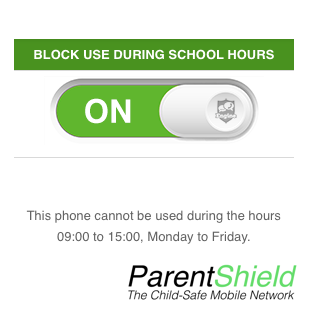 To create a simple block of calls, texts and mobile data during school hours we have added a new single button that does exactly that. This means you can block all calls and texts during school hours and still use the existing time controls for bedtime.
When using both controls at the same time a 'block' action always wins so if the SchoolBlock switch is blocking calls it cannot be overridden by the other time control.
Calls started before the SchoolBlock time of 9am will not be terminated at 9am and will proceed as normal.
Calls and texts to and from the Home Numbers are unaffected as these will always be allowed.
2019-01-23: Direct Debit and Payment Process improvements
This week we're working on some of the bits behind the scenes. We have improved the Direct Debit notification email and better automated Direct Debit Set-Up to make it slick and remove human intervention and potential errors.
2019-01-17: Informing the User of remaining Minutes and SMS
One of our brilliant customers pointed out that we had no way of allowing the Phone User to discover how many inclusive Minutes and Texts they have remaining this month.
From Today if your child texts the word balance to any of their home numbers they will receive a text message straight back with the information they need along with the number of days left to go before the balances 'reset'.
Please let us know how you get on.
2019-01-16: SIM ONLY plans with No Data
Today we have created some new Mobile Tariffs with Data Disabled automatically for customers who are looking for a mobile network SIMO plan with No Data
2019-01-10: Word Filter Now in its own Tab with Extra tools
We have just put live the new version of the Portal that now has the Word Alerts filter in its own tab.
The basic functionality is unchanged and everything works as before, but with the addition of a couple of new tools:
Testing. You can type in a message and test it against your filter words to see if it would raise an alert.
Explain. This function expands your word list and explains what will be matched by it
---
2019-01-08: Displaying Children's Blocked SMS Messages in the Portal
From today any SMS message that have been blocked by either Time or Secure Mode settings will appear in the Portal prefixed by "BLOCKED" and the reason why the message was blocked. This may be useful to aid with debugging or decision making. At the minute there is nothing else can be done apart from seeing that the message has been blocked and not transmitted onwards. We are playing with some controls to allow the message to be 'released' and transmitted if necessary.

---
2019-01-07: Caller ID Control
A few Customers have asked if it is possible to stop children withholding their caller id, with a view to being able to make anonymous calls, by changing the preference setting on their phone.
We have added a new 'switch' that now allows you to override the caller-id preference setting on individual SIMs in your account. If this is set to 'ON', caller-id information will always be sent regardless of the phone setting.
We don't envisage many customers needing to do this and the default setting of 'OFF' will usually be the most suitable and before changing this setting you should consider privacy needs of the user.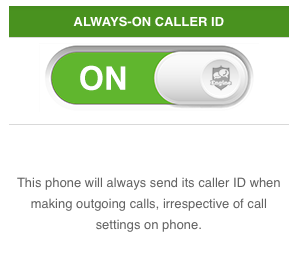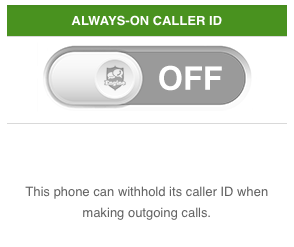 ---
2019-01-03: Caller ID Presentation between users in one account
There had been an ongoing issue for a while that we have been aware of and wrestling with that has now been fixed. Under some circumstances if you had two or more SIM cards under the same account, caller-ID information was being lost as the call did a trombone. We have had a few anti-tromboning measures in place that were partially successful but we haven't been happy with this for a while. This has now been resolved, and we believe users will always find brothers and sisters can argue properly.
---
2018-11-29: Terminating calls at Bedtime. Changes to Time Setting
A few customers have asked us to look at the termination of children's calls at bedtime. It turns out a few smart little people have worked out that they could make a call at 1 minute to bedtime and stay on the phone indefinitely thereafter.
From today, calls will be terminated a few minutes after the set bedtime even if they are in progress. Calls to or from Home Numbers are unaffected. Sorry about the behaviour change but we think this how the majority of customers expect it to work.
---
2018-11-22: 'Broken' time settings
It has been brought to our attention that it's possible to accidentally set the 'from' time in the time setting to be before the 'to' time resulting in all calls being blocked by the time control. We have added a test and an alert in the Portal if you try and do this.
We still allow it if that's what you want, just in case you want to do that. We can't think of many situations where you would…. but you can, if you like.
---
2018-10-19: Setting Home Numbers
It's only possible to change home numbers once per month. We have made a few changes to the Portal to try and make this slightly easier to do and a bit more obvious when changes can be made and when they can't. There were a few ways of deleting numbers accidentally and not being able to replace them. Hopefully it will behave a bit better now than it did. Thanks to everyone who pointed this out!
---
2018-09-03: Portal Messages
You may have spotted that we made it a little easier for us to present appropriate portal pop-up messages if there is something we need to communicate. Please keep the feedback coming – Andy.
---
2018-08-10: Direct Debit Set-Up Process
The process for setting up direct debits and seeing what payment method is in place, and when the next payment is due.
---
2018-08-01: Portal Registration
To improve security, it's now necessary for customers to register at the portal and turn recording on before any calls are recorded. This means that a SIM card, if intercepted en-route, will operate in the same way as any other SIM card and will not record any conversations or SMS.
---
2018-07-07: Children-in-Care Modes
In response to requests by our corporate-parent customers from today we have two optional modes available.
No Recording – all call recording is permanently disabled.
Third 'Home Number' for unrecorded use by a responsible known third party
---