What a Closed User Group is, and why you need one
By ParentShield's Telephony Experts
A Closed User Group ( or CUG ) is a special type of mobile service that only works between a pre-selected group of subscribers. It means that mobile phones in the group can call and text one another, but those outside the group have no way to route calls or SMS messages into the group.
ParentShield, being a special network for Children, and others with special needs, implements such a system to ensure users can be completely protected from unwanted contact by strangers outside of the group. This removes all the dangers associated with mobile telephones.
By putting your child's phone inside a CUG means you can completely lock communication down to trusted individuals only, and there are no settings to make on the phone itself, and no way around the restriction – because the call route at network level, is unavailable.
This allows parents to confidently provide a mobile phone to children as young as 4 and 5, knowing that they can only call home, or any other trusted number placed inside the Group.
Ultra Secure Mode
ParentShield calls this strongest call blocking configuration for its subscribers "Ultra Secure Mode" and it's easily turned on with the flick of a single switch in the powerful ParentShield Portal. Turning Ultra Secure Mode on switches the usual "block list" into a new "allow list" for all numbers ( Save the parents' own numbers of course ) are instantly outside the Group.
What is the purpose of a Closed User Group?
Safety – Only members of the group can communicate so you know who they are in advance and there is no way to 'spoof' membership of gain access with a compromised password.
Security – The CUG is maintained by the child's parents so there is no configuration that the user can change to add new members, or remove themselves from the Group.
Create a CUG to use
In the Settings tab of the ParentShield Portal, you will find the "Ultra-Secure Mode" switch. Turn this on and instantly ( There is no delay and it's effective from the next call ) your child's mobile can now only call and text selected numbers. The two "home numbers" assigned to the account are automatically part of this group.
Adding members to the group
To add more numbers to the Closed Group Mobile list, click on the "Manage Safe List" button. This will present a new dialogue box as seen below:
You can add as many Safe Numbers as you need. There is no limit.
Leaving the Closed User Group
At any time you like, you can remove the child's mobile from the Closed User Group and open it up to calls and text messages from the open Public Access telephony network.
In the ParentShield Portal, move the Ultra Secure Mode Switch to the 'off' position.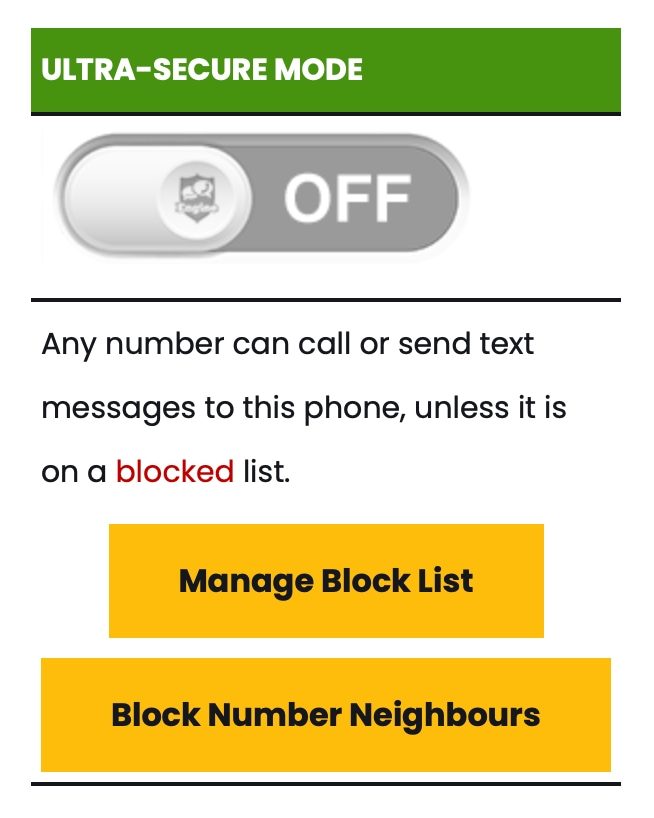 Intelligent Closed User Group
ParentShield's security and blocking protocols work in such a way that should you opt to block calls and texts ( And also mobile data ) by time controls, the two special home numbers are always exempt.
Even if a phone is set with time restrictions to block calls and SMS outside the normal waking hours, the user can always still call and text Home Numbers.
Uses of a Closed User Group
Closed User Groups or "Ultra-Secure Mode" are used routinely by ParentShield Subscribers for day-to-day child protection. They remove all dangers associated with the temptation by younger users to dial 'numbers that they see'. It's very common for first time users to see adverts, often inappropriate adverts, with phone numbers and to dial them. ParentShield blocks hundreds of premium rate, and potentially harmful, calls every day for its subscribers.
Confiscating a child's phone
With an open phone, it may be necessary to confiscate the phone from a child if usage is causing a danger. However, the removal of a safety-device such as a phone, can't be taken lightly.
Placing the Child's phone in Ultra Secure Mode Closed User Group means that the phone remains a vital and important safety device – that can call home, be called by home, and call the emergency Services, and it's only the ability to call unsafe number that has been taken away.
Lost Phones
If a phone has been lost it's very useful for that phone to be able to be called by trusted numbers, and for the phone to be able to dial what may be set as the 'emergency contact number', yet be unable to be abused.
Turning on Ultra-Secure Mode CUG does this instantly and remotely. It doesn't require any apps, or internet access. It doesn't matter is the phone is turned on or off, and you can do it from anywhere via the ParentShield Portal without having to sit in a support queue or explain the situation.
Speed is of the essence.
Safe minimum age to have a phone
Providing a first phone in a closed user group removes most, if not all the concerns that parents have when giving a mobile phone to the younger children. Locking the phone down to ONLY make calls and send texts to known safe numbers means the safe minimum age to have a first phone can be revised.
In the UK, the average age to receive a first mobile phone is around 11 years. ParentShield Users in Ultra Secure mode tend to start around the age of 9 – so properly protected it's reasonable to say parents can trust children a couple of years younger with a mobile phone if they're able to guarantee that they can control who the phone can call, or be called by.
How a CUG works
We think of mobile phones, and any phone for that matter, as having a 'single number' – there is a phone number, and that's the number for the phone, right? If only life were so simple!
Every mobile phone conversation actually involves routing and connecting many more numbers and identities than we see. Every subscriber has both a 'presentation number' and a 'Network number' It also has a temporary routing number assigned to it for the purposes of that one connection.
When ParentShield routes a call to or from a child's mobile phone, all these numbers need to check out. If they do, then the call will route successfully, and if not, it will fail.
If the caller withholds their caller ID, or it's not the correct caller and they fake the correct caller ID, ParentShield's routing platform is smart enough to know, and discard the call.
Closed User Group Providers – UK
Engine Mobile Ltd's ParentShield is the leading provider of a Closed User Group Implementation in the UK for child protection purposes. Roaming SIMS use the major network providers but all call and SMS traffic routes through ParentShield's Network Control infrastructure in the UK, where routing is controlled via their bespoke HLR.