---
Start your Conversation with Parents about Mobiles
At ParentShield we are very aware of the issues that Schools face from Mobile Phones at School. We want to help. ParentShield is all about teaching responsible phone usage. We believe, that, by providing the right features and the right information we can be a big help.For Instance every ParentShield account is equipped with SchoolBlock, a single button Parents can press in their online account that Blocks ALL calls, SMS, and Mobile Data on their child's phone during School hours.
We would like to send you a box ( or two! ) of our brochures to distribute to Parents.
Providing access and information about a Safe Mobile Network is a great way of kicking off that difficult and inevitable conversation about Mobile Phones. Giving Parents the tools to control use at school and monitor their children's communications makes the introduction of safe school policies easier. For that reason dozens of schools are recommending ParentShield to the Parents of their new KS2 and KS3
If you would like some brochures, or a customised Handout, or images or information for your email newsletter or website - we'd love to help.
If you feel that this will be of any interest to your school, simply fill in the form below & our team will be in touch
Download our Brochure
A smaller information sheet produced by one our partner schools can also be found here to attach to your Parent's pack or include in newsletters.
[ Right-Click -- Choose Save / Download file ]
SchoolBlock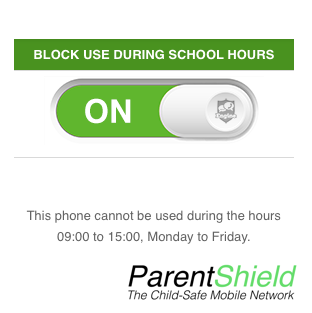 SchoolBlock is a completely secure and simple way for parents to stop their child's mobile phone from being an unnecessary distraction at school. With SchoolBlock turned on, the child's phone can only call home, and be called by home. Similarly, it can only text home, or be texted by home.All mobile Data is completely blocked.

| | | |
| --- | --- | --- |
| Supporting the Police Federation | SIM cards for those with Special Educational Needs | |