ParentShield regularly surveys UK schools and the thousands of parents who use our Network to check what policies schools are implementing regarding Mobile Phone possession and usage. Being the only child-only mobile network, this is important to us for product development and implementation of network features such as SchoolBlock that allows parents to prevent Phone usage during School Hours. We will shortly be updating this page with percentages of respondents and comments from Schools.
---
ParentShield understands that Mobile Phones and mobile phone use at school is a constant source of potential friction between staff and pupils, and between staff and parents. This is why we are pioneering innovative solutions such as our SchoolBlock switch which stops all call, text and Mobile Data activity during School Hours.
Schools are increasingly recommending ParentShield to their Parents as they seek to implement effective mobile phone policies.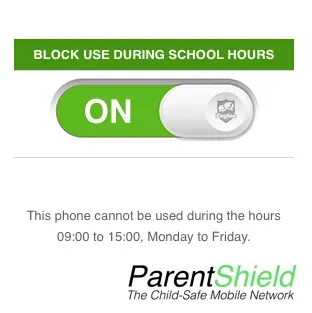 ---
Which Mobile Phone Policies do Schools Implement?
Spoiler Alert – latest and up-to-date results can be found here without voting
Total Ban – No phones inside the School Gates
Typically Zero Tolerance, no mobile phones of any type allowed in school anywhere.
Phones Out Of Sight, Out of Mind
As long as phones are kept in bags and turned off, they may be brought into school so they can be used before and after school to coordinate pickups and drop-offs.
Responsible use allowed outside lessons
Phones are allowed to be seen and used at break times and lunchtime – typically outside the school.
No Smartphones
Only "simple" feature-phones are allowed at school – and either must be kept turned off and out of sight inside the school gates at all times, or allowed for use in the playground at lunchtime and break times.
---
Recommending ParentShield
If you would like some brochures, or a customised Handout, or images or information for your email newsletter or website – we'd love to help. You can download our full product brochure below if you want to distribute or link to it in School Communications – that'd be great!
( right -click on button to copy link and paste it into your Newsletters )
A smaller information sheet produced by one our partner schools can also be found here to attach to your Parent's pack or include in newsletters.
[ Right-Click — Choose Save / Download file ]