A ParentShield Child-Safe SIM card turns any mobile phone into a Parental Control mobile phone. This is because ParentShield Controls are on the network, not on the phone. As a result, you can provide any phone hardware, and just use a ParentShield SIM
SIM-ONLY vs Hardware or Software Controls
Provide the phone of your choice
Change the phone as often as needed as needs change
Free SIM replacements for lost phones
No way of bypassing controls
No embarrassing "parental control" phone
No settings on the phone itself – so no arguments
Provide the type of phone / platform that you know best yourself
Expensive phone hardware, often sold on a 12 – 36 month contract, is often inappropriate for first-time phone users who will invariably, it seems, lose, smash, or drown their mobile phone within weeks of getting one. Even with insurance, which itself adds to the cost, it means you can be without a phone for long stretches of time while it's being repaired.
Parental control phones are easily identified by tech-savvy children and are certainly not desirable items that most children would want to show off in the playground. The fear of being bullied because you are carrying a parental-control phone is a real one.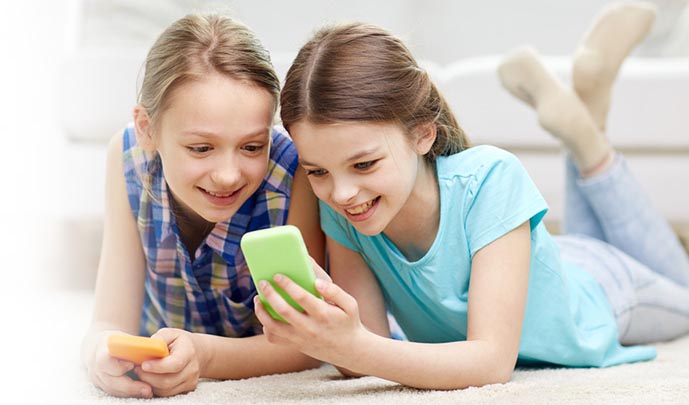 App-based Parental controls require that the child has a modern smartphone, and that the smartphone is connected to the internet – precisely the sort of scenario that most parents of a first-time phone user are trying to avoid. All parental-control phone features are ultimately controlled by the child's phone and protected by a password or pass-code. As a general rule, parental controls, if they are to be of any use, need to be so restrictive that the child will be asking for the password every few minutes. It won't be long before they know the passcode and, from that point the game is over.
Provide the right phone at the right time
A SIM-Only solution allows you to obtain all the necessary parental controls, even in a very basic 'chocolate bar' feature phone. There are no controls to set on the phone, no security passwords to use on the phone, and no way ( short of taking the SIM out and replacing it with another ) of bypassing the security features. It means the child can have the phone that they want, and you can change and upgrade the phone as the child grows without being tied into a contract for a phone that has become redundant.
Giving a child a phone at Christmas or for a birthday is really common, and it's often a handed-down phone that is chosen. This means it's not the end of the world should it be broken. Removing this worry is a big deal and leads to happier and more relaxed parents and children alike.