The
Teen Mobile

dangers of Growing Up With Technology
Kids and teenagers today have to deal with new experiences and dangers that we didn't have when we were younger. Growing up has changed. So, modern parents need to know the new risks of technology and mobile phones – before it is too late. Leaving the first mobile phone until they are just entering their teen years is potentially a source of problems according to ParentShield.
Shocking 'Sexting'
Think your teen's mobile wont be affected by sexting? Well the stats say otherwise. It's by far more common than you may think.
According to a UK survey on teenage mobile phone habits 6/10 UK youths have been asked to send a sexual image or video of themselves. Shockingly, 25% of those asked actually did send an explicit image of themselves. Even more shockingly, 1/3rd of those who sent an image, sent it to a someone they knew online but not in real life.
How would your child feel if an image they had shared privately ended up online or being sent around their whole school? Well sadly, 20% of teen 'sexters' who had shared an image with someone, knew that person had then shared it with others.
Unfortunately the sad truth is that anything shared online, over text or through apps can be saved and used to harass, blackmail or embarrass your child, which can be really devastating.
Cyberbullying
Online bullying is a growing problem for modern teens, where 1 in 4 youths state they have experienced something upsetting on social media. Being bullied or harassed online can be very distressing – especially as many online bullies can hide their identity. With social media and mobile phones, kids are no longer able to leave their problems and bullies in the playground.
Also we see more and more teens and pre-teens being bullied over voicemail – even blocking a caller isn't sufficient to remove them from a tormentor's reach. ParentShield removes the danger of Bullying over Voicemail completely.
Grooming and 'Catfishing'
Grooming or 'Catfishing' (pretending to be someone else online) is a big issue online in the UK. Be sure your children know to be cautious with strangers online, and to be honest with you about who they are speaking to. No one should be punished for trying to make friends but if they are keeping secrets or behaving differently, this could be a cause for concern. An adult able to review a child's calls is in a great position to initiate timely, positive conversations with the young person about the potential for being mislead.
Peace of Mind With The Safest Teen Mobile Network
A brand new parent-child friendly mobile network has recently launched called ParentShield. It was designed to allow children to have the independence of a mobile but with some parental protection.
The network provides a sim which can be used in any unlocked mobile phone. It works like any normal sim card and offers great coverage all over the UK. Your Teen can simply be switched to a mobile phone SIM provided by ParentShield.
Unique Features of the ParentShield teen mobile SIM from Engine Mobile
Records all calls and texts to and from the SIM
All recordings are stored in an online portal
Time & Internet Controls
Set up Specific Word Alerts
Inclusive Calls To Home Numbers
Powerful spending controls
All controls can be adjusted as your child grows up
Teen Mobile SIM-Only Prices & Packages
You should aim to be honest with your child about the risks of owning a mobile phone as well as the abilities of an engine mobile sim – this encourages your child to be honest with you if they do face any problems.
You're in control with ParentShield – so you know they're safe. Click here or on the link below to find the best safe sim plan for your children.
Not just for Teens – Find Out More:
ParentShield provides SIM cards for teen mobiles, but also for mobile phones for children as young as 5. Teaching good habits and mobile phone responsible use as early as possible is usually the best way of ensuring teen mobile responsibility.
Teen Mobile Secrets Parents Need To Read. – ParentShield
The ParentShield mobile network is a unique mobile network designed specifically for children to use. Adults are not allowed to use the service and in cases where older children need the control features of ParentShield – the advanced caller matching and blocking, or maybe the Ultra Secure mode to restrict call and texts to home numbers only – recording can be permanently removed for the necessary levels of privacy.
Carry on reading to find the best teen mobile plan for your tween or young teen.
SIM only offers – suitable for teens
ParentShield has four teen and pre-teen SIM-Only offers that are designed to take a young person from the age of 7 or 8 all the way up to 14. These are ages where full internet access would generally be seen as inappropriate and parents need to be able to ensure that appropriate conversations are being had, and any dangers or warning signs can be spotted.
Having appropriate vision of the sort of conversations teens and tweens are having on their phones allows parents to hold timely and relevant conversations with their children if need be, and give the young person greater freedom and autonomy.
Here are the four ParentShield Tariffs:
Safe Stage 1 – Starter SIM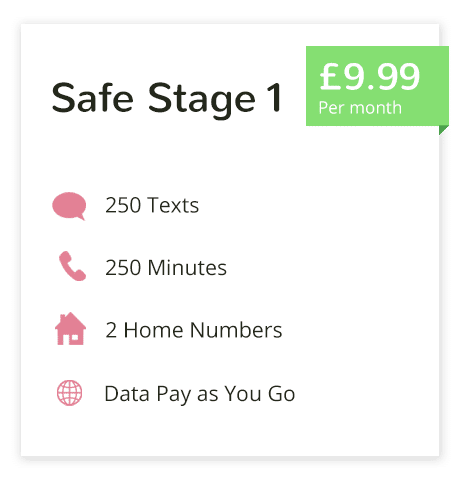 Safe Stage 1 Teen mobile SIM is the usual starting point. It offers unlimited, and reassuring, calls and SMS to the parents' own mobiles or landlines and a number of inclusive SMS and call minutes to all other numbers. It doesn't include any mobile data as standard as children of this age will typically not be using data-based apps outside of the home.
Home WiFi will of course work in the same way as with any other network.
Safe Stage 2 – more independence
As the tween transitions to teen – the mobile SIM can be upgraded to Stage 2. At this age they're walking to school, or maybe taking the bus, and visiting friends' houses to going away on school trips. More time is spent independently and more calls, more texts and mobile data for location and web searching is needed.
Safe Stage 2 does all of this and provides half a gigabyte of data a month, 500 inclusive minutes, 500 inclusive SMS messages and, as with Stage 1, unlimited calls and texts home.
Safe Stage 3 – unlimited calls and texts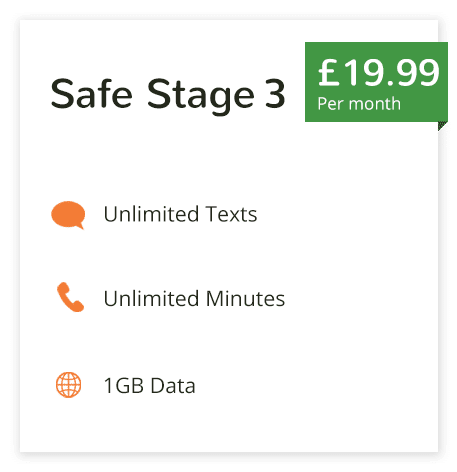 Safe Stage 3 provides the older tweens and teens a mobile experience as close to a normal adult phone as is possible. There are no restrictions on calls and texts and data is doubled from Stage 2. Calls and texts are still recorded and parents still have all the same controls and safeguards as the other mobile tariffs from ParentShield.
Safe Stage 4 – heavier data usage
The teen that is more independent and comfortable and trusted to have a filtered internet connection used independently might move onto the Safe Stage 4 Tariff. This includes all the safety features that the other SIM cards have, but 3 times as much data as the previous tariff.
The Data can still be used with ParentShield's Daily Data budgeting feature that guarantees that some data is always available. If it's vital that data is available for tracking, research or mapping purposes, then this is the Teen Mobile SIM deal to choose.
Monitoring a Teen's Mobile
ParentShield SIM cards provide advanced and secure recording and monitoring capability. It provides parents and teens alike the confidence that should something bad happen, there will always be a six month archive of conversations available to draw upon. This can be invaluable in many situations.
Even if a message is deleted by the teen from their phone, deliberately or by accident, an archive version will be available for review. The same goes for telephone calls. Each call is securely encrypted and stored for a period of six months before being permanently and securely destroyed.
Is recording a mobile an invasion of privacy?
ParentShield encourages openness with teens about the facilities of the network. Certainly it's fair to say that teens themselves buy into the process very well and understand that it's their safety that's being protected. The majority of users never need to review any calls and, a little like a teen's personal diary they can be treated as private and safeguarded by parents.
Should the unthinkable happen, or there is an incident – it's there to be called upon.
Word alerts on SMS messages pick up on topics and matches set by the teen's parents or guardians. So an automated matching process takes care of looking for signs that parents might want to investigate.
Recording is, of course, optional and can be permanently disabled as you would expect.