ParentShield is the registered Trade Mark belonging to Engine Mobile Ltd that describes the Company's innovative and award-winning Mobile Phone Network for Children.
Buy Now
ParentShield and Parent Shield used in this context are descriptive of the Special Children's Mobile Phone Service and as such protected by the Trade Mark No. UK00003299786
https://trademarks.ipo.gov.uk/ipo-tmcase/page/Results/1/UK00003299786
Engine Mobile Ltd. vigorously defends the use of these protected terms: ParentShield and close derivatives such as Parent Shield and parent-shield where they may cause confusion or mislead.
ParentShield also has copyright to the strapline "The Child-Safe Mobile Network" and the ParentShield Logo displayed above.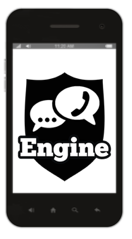 Additionally the Engine Crest used on its own or among other elements as displayed.
Usage With Permission
Any usage of the ParentShield brand must be approved by the company.
Please Contact:
Engine Mobile Ltd
Pioneer House
Derby Road
Stenson
Derby
DE73 7HL
email: sales@parentshield.co.uk