Make a Mobile Phone Safe for Any Child
ParentShield is unique in that it offers a network-level 'call firewall' as part of its service. It's something that is not normally a part of a mobile network infrastructure so we take this opportunity to explain its functionality in a little more detail.
Under normal circumstances, the default behaviour of a telecoms network is designed to connect all calls that match the called party number. There is no network-level control of which numbers can call or be called. Any blocking functionality has to be set up on the mobile phone itself. While this works to a fashion, it's easily circumvented by the user of the mobile phone, and there is no control at the network level to prevent call redirection or CLI spoofing. Every phone is effectively a dozen or so key-presses away from speaking to virtually any other telephone in the world. That's great! If it's what you want. In the hands of a young person, possibly not.
Every phone is effectively a dozen or so key-presses away from speaking to virtually any other telephone in the world. That's great! If it's what you want. In the hands of a young person, possibly not.
When to use Ultra Secure mode
Ultra Secure mode can be turned on instantly from the ParentShield Portal by activating the Ultra Secure Mode switch. This has the effect of instantly blocking at network level any number that isn't one of the two Home Numbers or has been added to the Safe List. If you have multiple ParentShield SIM the additional SIM cards on your account are always treated in the same way as Home Numbers. It sets up what is known in telecoms terms – a Closed User Group.
As you would expect, Ultra Secure Mode has no effect on calling the Emergency Services on 999, which will always work. There are also a few other numbers that OFCOM gives special designation such as Childline which we automatically add along with the special rules regarding recording and reporting.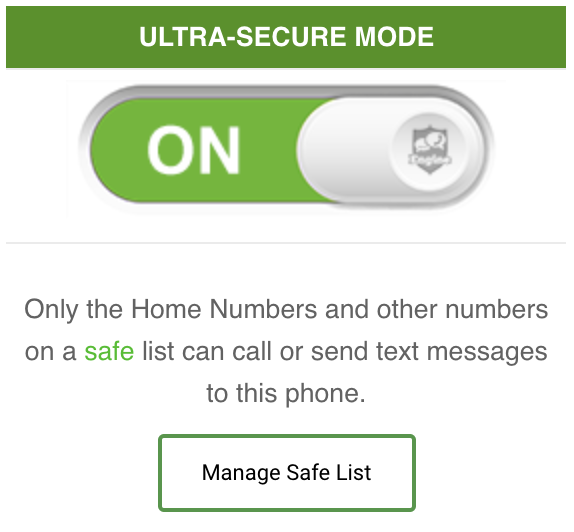 In the background the ParentShield call servers additionally check the chain of call connections to ensure this is what is happening. Even a caller 'spoofing' their caller-id to match one of the home numbers will find their call will be blocked.
In addition to the two Home Numbers it's possible to add more safe numbers in the Safe List which is accessible in this mode
Ultra Secure mode turns the mobile phone into a 'closed group' mobile phone. It's away from the public network. This is the safest way of providing a mobile phone to those who have no need for communication with anyone other than Home or known, trusted individuals.
Because of the additional Network-Level checks, Ultra Secure mode may occasionally create some phone behaviour that is not expected. For instance a call to a UK mobile phone roaming abroad will necessarily have to be redirected to a foreign temporary number – and Ultra Secure mode will potentially block this. Calls even in the UK can occasionally be redirected or have malformed information attached – and these will be blocked also. So if you are usung Ultra Secure Mode you will have to be aware that some calls you may expect to succeed could be blocked.
Blocking all unapproved numbers is the only way of protecting against calls from those who cannot call a young person for whatever reason. Blocking one individual number will likely just result in the caller using another phone!
What Ultra Secure mode Blocks
With Ultra Secure Mode turned off, the Safe List is disregarded and you have access to a Block List via the "Manage Block List" option.
The Block List uses Network Level checking so if you add a number to the Block List, that number will be blocked even if that caller subsequently hides their caller ID, and anonymous calls are being allowed. You can have as many numbers in the Block List as required and they can be added either by entering them into the Block List dialogue box, or clicking on the number in the calls list and selecting 'Add to Block List'.
As with the other ParentShield call controls – such as Time Control or SchoolBlock – Ultra Secure Mode works 'in series' amongst the other blocks, so if any one of the blocks will cause a blocking action the call will be blocked. Adding a number to the Safe List won't allow it to work if it would be blocked by another control. Only Home Numbers, Sibling Numbers and the Emergency Services will bypass all controls.
If you have any questions that we haven't answered here, as always, email hello@parentshield.uk or drop a question on the product page next to the plan that you're looking at. https://parentshield.co.uk/sim-only/