ParentShield is the first mobile network to provide "Network Watch" alerts to parents
Help!
A major point of stress and worry for parents is an inability to contact their child, even if they are carrying a phone. They may call and try a location service but if the phone is turned off, or out of signal then both will fail. It's impossible to know whether the battery is flat, whether the phone has been set in aircraft mode, or whether connections have deliberately been blocked by the user.
Simply Activate Network Watch
Network watch is advanced continuous ping service that watches a child's phone and alerts the parent the instant it is re-connected to a network. The Parent receives an SMS message with the Child's phone status as it connects.
In the Settings tab in your portal, look for 'SIM Information'
Then click on 'Network SIM diagnostics' and you'll be presented with the status of the SIM and, if offline, the ability to alert the home numbers as soon as the phone reconnects to the network.
Call Me!
The facility also allows you to type a message that will be pushed through to their phone as soon as it comes from the network, and will be clear to the child that it's from you.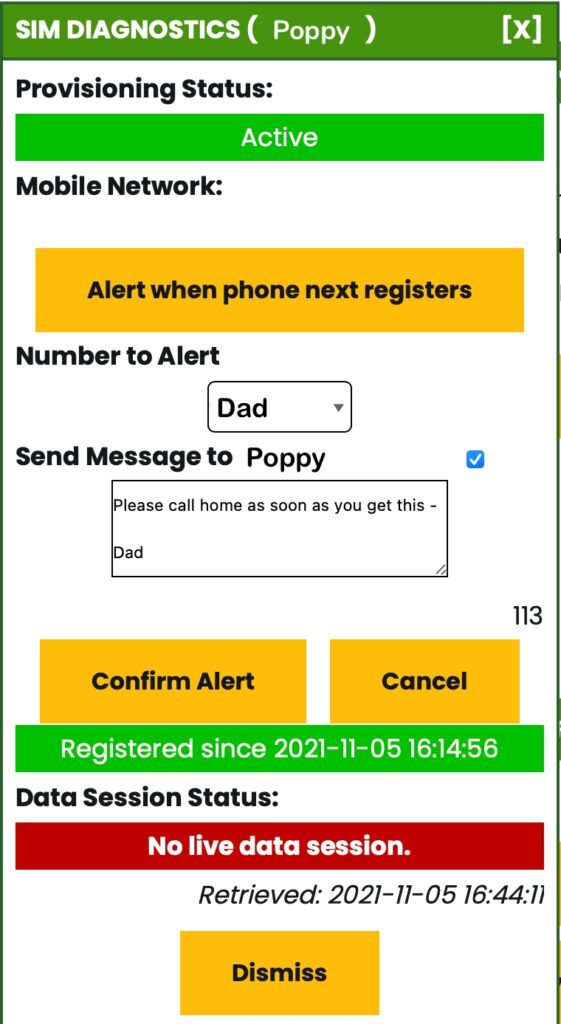 Knowing that they'll be alerted as soon as the phone regains a network connection provides considerable peace of mind to parents who find themselves in this worrying situation. They no longer find themselves having to call again and again and not know if the phone is actually on or not, and not knowing whether any voicemail left will be or has been listened to. An SMS to the phone will almost certainly be read and seen instantly.