Why am I using too much mobile data?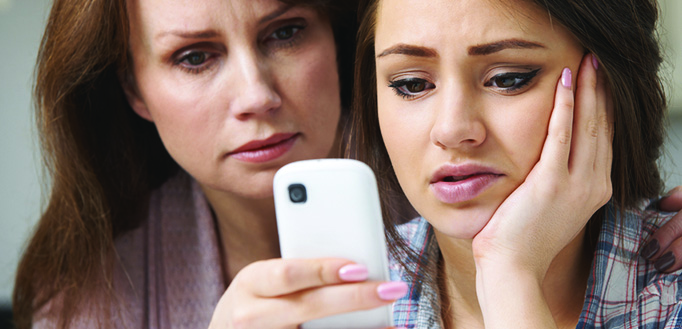 Many people's response to a child ( or themselves ) using too much data is "I need a bigger data allowance". It's possibly true, but the truth is that if you don't properly control the usage of mobile data, virtually no allowance will be big enough. And for vulnerable, users, big data means big risks, so we thought it may be useful to talk about ways to keep data usage in check.
Get the Wifi on
Wifi will almost certainly be as fast as mobile data and comes with the advantage of parental controls at the WiFi Router. If your Router provides parental controls that's great. If it doesn't, or they're not very good than simply swapping your DNS setting to use OpenDNS and using their free Family Shield or OpenDNS Home will give you great content filtering, and almost certainly a faster Internet Connection in the process.

Here is a link to the packages and set-up guides:
https://www.opendns.com/home-internet-security/
Home Wifi is easily configurable to turn on and off at certain hours. The more advanced routers available will provide multiple connections so you can even have different hours for kids and the grown-ups.
ParentShield allows you to apply a time control to users' phones so make sure that Wifi hours are at least as long as Mobile Data hours. If the home Wifi turns off at 9pm but mobile data carries on until 10:30, then traffic will go that way rather than the Wifi that's preferable.
Sort the phone settings
Every Smartphone has settings to control mobile data. Every application on the phone can be configured to say whether or not it will use mobile data.
A quick check of the phone settings will easily reveal which applications can use mobile data, and which others will be restricted to Wifi only.
Applications that will always be used in the house, or where Wifi is present can safely be locked to using Wifi. It's only a switch so if it's needed the setting can be changed. As long as the user understands what the setting is and can use it sensibly, there are great mobile savings to be had.
Applications can also be configured to determine whether or not they are allowed to use 'background data'. Set up wrongly, a news application can connect every few seconds to look for new, news, or a weather app can go checking in the background for weather updates. Ironically while the user is out and about in, the weather in question.
Data heavy applications such as Youtube and some social media applications probably need some separate attention. Whatever is on the user's phone, check it out and have a look online. A quick google search will return many results with hints and tips for saving data for each application.
If you have a ParentShield SIM, then all SMS to and from home is free and unmetered, so do make sure the phone is using standard SMS for communication with home rather than iMessage or WhatsApp or Messenger or some other internet-based messaging app.
Check the Portal
ParentShield Portal shows you in real time the amount of data that is available this month. There is a text alert to the Parent's phone that will tell you when your child is running low on data, but keeping an eye on it will provide useful clues about what data is being used when.
There is an even cooler feature though as well – Data Budgeting. At the flick of one switch you can take the remaining data budget for the month and turn it into a smart daily budget. If that day's data allowance isn't used it simply rolls over to the remaining days. It sounds complicated but we've made it so simple to use, just turn it on and your child will have data available every day.
If that day's data has been used and you want to locate the phone with one of the common GPS tools like Google Locate or Find My iPhone – then just turn data budgeting off, locate the phone and then turn it back on.
To see how much data has been used – check the daily data usage graph. That shows the amount of data used each day for the past 30 days with Day 0 being today, Day 1 yesterday etc.

If you need any hints or tips or want to discuss mobile data usage, do give us a call on 0330 122 1180 or email: hello@parentshield.co.uk
Set Bedtime
Your ParentShield Portal allows you to set Bedtime or SchoolBlock. These have the effect of turning off mobile data during these times. This means that any background applications on the phone won't be able to use data while the user is asleep, or at school, wide awake!
See what's eating the data
The most common problem we come across is people don't know what is using the data. Modern mobile phones are really just full-blown portable computers and can use data in many unexpected ways.
It's worth exploring what has used the data as unexpected spikes are often a sign of malware on the phone. A common video app ( ironically supposed to reduce the amount of mobile data you use by downloading videos for watching later ) was recently discovered on millions of phones being used to mine cryptocurrency.
Most phones will have a "data usage" section in settings that allows you to see what applications have used data, and how much. This is a great educational tool and really helps cut down on data as well as be a guide to what usage behaviours can be changed.
At the end of the day – data to look up a bus time, or send an important message or email, is more important than watching a music video for the 10th time when it could be viewed on WiFi or downloaded to the phone.
The billing trap
It's also worth keeping in mind that all the major networks live for what the industry calls 'breakages' – the extra profit usually that comes from customers not using all their allowance or going over their allowance and spending way too much.
The most common version of this comes from – "flat tariff, lumpy usage" – where you are paying a flat amount each month, yet your usage fluctuates.
If you use little, then the operator wins, and if you use a lot the operator wins. Their gamble is on the majority of customers falling into one of the two, wide, profitable bands, and very few using all their allowance, exactly, every month.
The high rates for bursting the allowances are designed to force up the flat rate. Customers aren't so much paying for services they use – they're paying insurance against an unexpected high bill but then pay a lot more in the long run.
ParentShield never charges or allows any above-the-line spending, in any circumstance. Even if you go abroad.